Rajma Chawal Recipe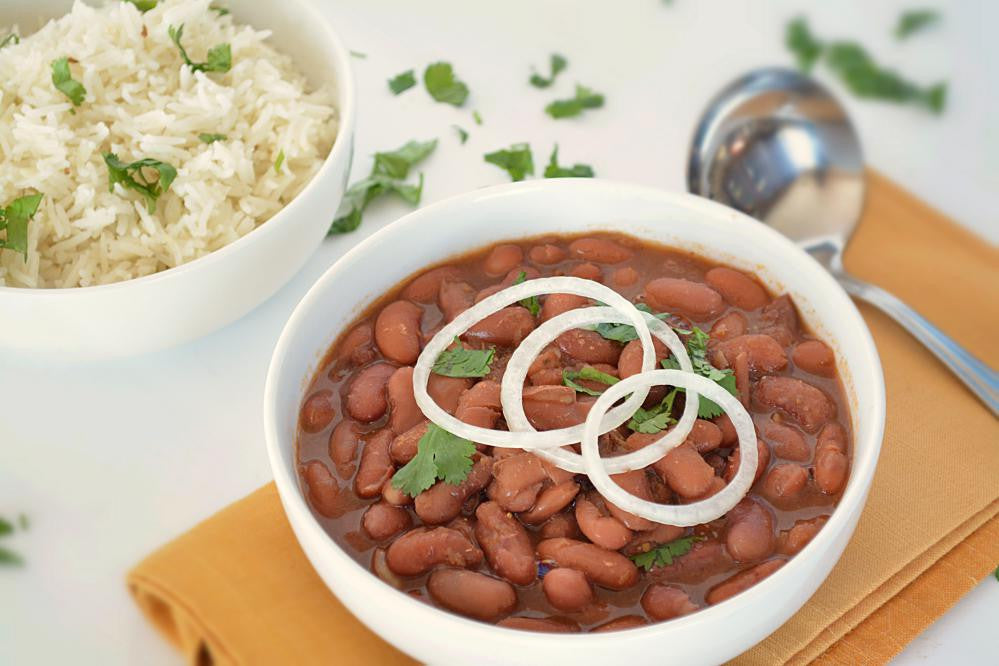 Ingredients of Rajma Chawal
Kidney Beans soaked overnight 1 cup
Salt (according to your taste)
Oil 4 tablespoons
Onions 2 medium
Ginger-garlic paste 2 tablespoons
Coriander powder 2 teaspoons
Cumin powder 1 teaspoon
Red chilli powder 1 teaspoon
Tomato puree 1/2 cup
Garam masala powder 1 1/2 teaspoons
Fresh coriander leaves chopped 1 tablespoon.
Method of making Rajma chawal Recipe:
Step 1
Drain kidney beans and wash in fresh water and put into a pressure cooker. Add 5 cups of water and salt and cook under pressure till 4-5 whistles are given out.
Step 2
Drain and reserve the cooking liquor. Heat oil in a non-stick pan. Add onions and sauté till light brown.
Step 3
Add ginger-garlic paste and sauté for 2 minutes. Add coriander powder, cumin powder and red chilli powder and mix well.
Step 4
Add tomato puree and mix again. Sauté for 3-4 minutes.
Step 5
Add kidney beans and mix well. Add 1 cup cooking liquor and salt and stir to mix.
Step 6
Mash the beans a bit and stir again. Add garam masala powder and mix and cook for 5-7 minutes.
Step 7
Garnish with coriander leaves and serve hot.
---