Asafoetida (Hing Spice)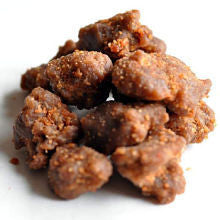 What is Asafoetida?
Asafoetida commonly known as "Hing" or "Heeng" is a powerful spice. The smell of Asafoetida is very strong somewhat like concentrated Onions and Garlic put together. Only little quantities of this Hing Spice is powerful enough to give an ultimate Flavor and Aroma to your dishes.
Where and How Asafoetida is grown ?
Asafoetida is a perennial plant which usually grows approximately 1.6 m in height. Asafoetida grows in Afghanistan, Iran, Northernmost India, Uzbekistan, Kyrgyzstan, Turkmenistan and Tajikistan.
What are the different names of Asafoetida:
Asafoetida, Hing, Heeng, Ting, Hing Spice, Perungayam, Devil's Dung, Kayam, Asant, Giant Fennel, Stinking gum, Jowani badian and Food of The Gods.
 What is the Botanical name of Asafoetida (Hing Spice): 
Ferula foetida and the commercial part used is Oleogum resin which is extracted from rhizome and the thickened root of this plant.
What is the Texture & Color of this Asafoetida?
Dry solid gum (whole form) and the color is Dark Reddish Brown. 
What are the Uses of Asafoeida ?
Asafoetida is extensively used in Indian Cuisine in various types of curries, vegetables, dals and meat dishes. Asafoetida or Hing adds an ultimate flavor and aroma to the food.
Asafoetida – An Alternative of Onion and Garlic:
Many people forbid eating onions & garlics due to certain reasons can use Hing as an alternative.
Many people make special types of baits to trap Fishes, Bears and Wolfs.
The Mysterious Asafoetida:
In cultures like Tantra, Wicca and Voodoo Asafoetida plays a significant role.
Health Benefits of Asafoetida:
Naturally, Asafoetida (Hing Spice) helps in Digestion of Food. Prevents and Cures Constipation, Indigestion and Gastric troubles.
Buy Asafoetida Online - Free Shipping, Best Prices and Great Discounts.
---
1 Response
Leave a comment
Comments will be approved before showing up.